The fastest way to a Decision in Principle
We've combined data from 80+ lenders to create a digital marketplace for specialist property finance
How it works
Search & apply in minutes,
secure a Decision in Principle in hours
Impress lenders with a winning presentation
Apply in under 30 minutes with our Smart Appraisal™ tool
The quickest and easiest way to create a standout lender presentation is to use our Smart Appraisal™ tool. It takes under 30 minutes to complete and Brickflow connects directly to over 80 lenders meaning you save hours of time and there's zero paperwork.
The only online development appraisal tool that connects directly with 80+ lenders
Complete one appraisal and apply to any lender, so there's zero paperwork & zero delay
Invite your client & professional team to contribute
Securely store documents and information for future use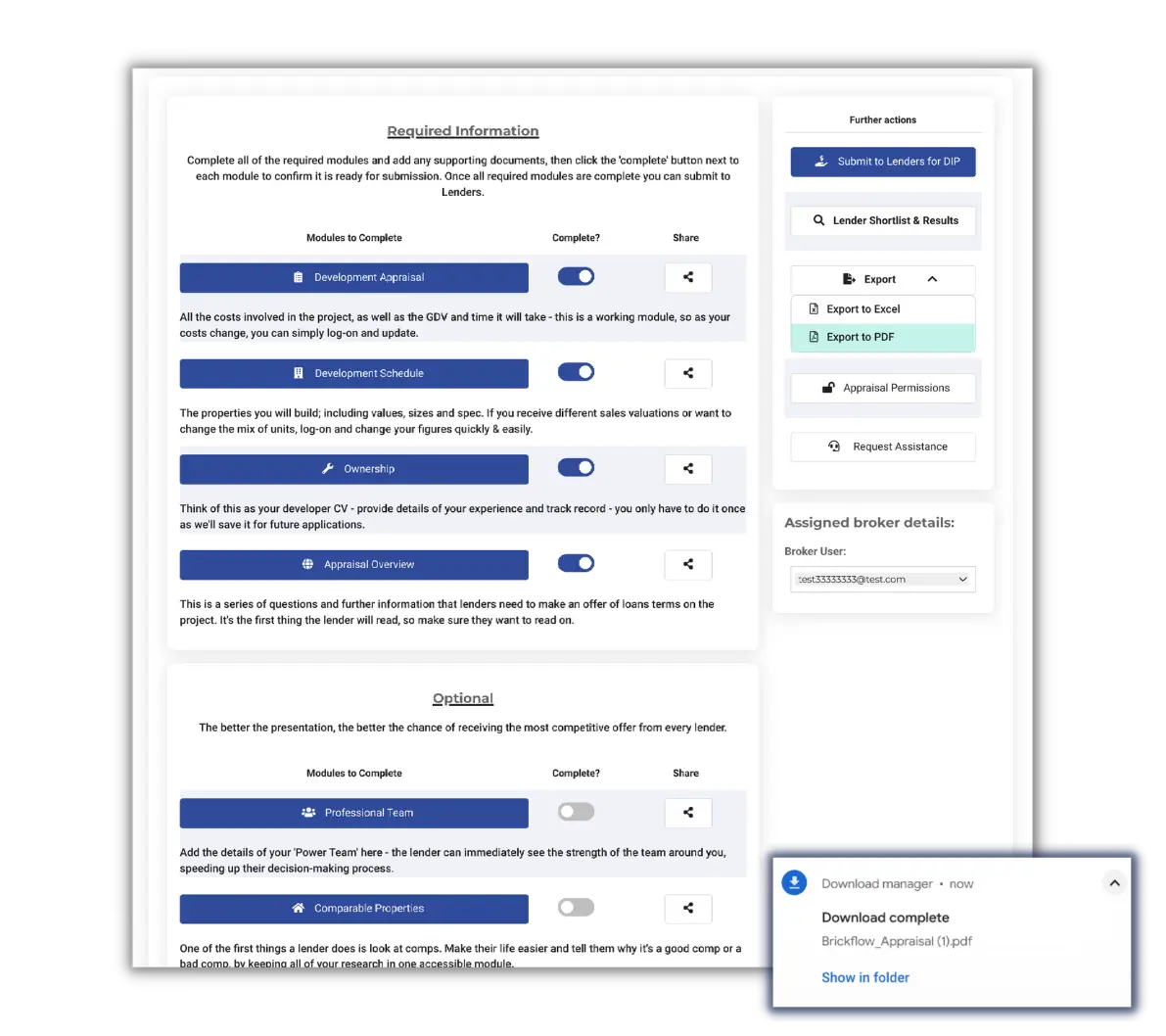 Testimonials
Hear what Brokers have to say about Brickflow
Impress clients with an innovative solution
Use our unique white label product to stand out from the crowd
Be the broker developers want to work with by offering the best value development loans. We offer a unique white label solution that allows you to brand the Brickflow platform as your own, giving you the opportunity to get ahead of the competition. We'll even provide you with unbranded marketing materials to help you shout about the platform and its benefits to your clients.
Navigating the application process
Expert support
Whilst we're big on tech, we also like to talk. We have an experienced team to help guide you through the application process and beyond, if you need us.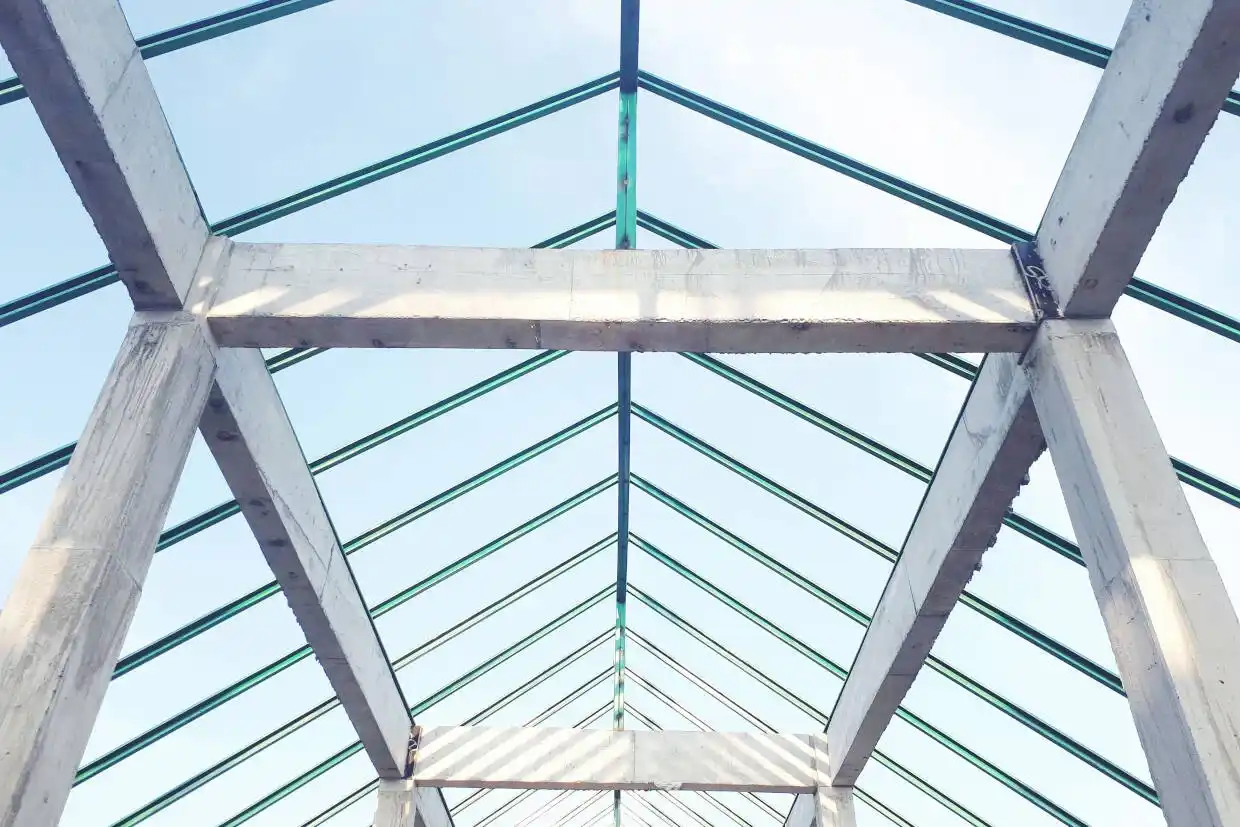 Coming Soon: Broker Connect
Receive direct leads from developers looking for a broker
We're working hard to enable developers and brokers to connect via Brickflow, which you'll be able to do very soon. As a Brickflow member, we'll send you direct leads for developers seeking a broker to secure their next property development loan. More news coming soon!
FAQs
Your questions answered
Who can use Brickflow?
Brickflow is a Broker product. Developers have access to a free version that allows them to model their projects and understand what finance could be available. But they cannot see lender names and they cannot apply for finance without a Broker.
Can Brickflow provide leads?
This is something we're working on for 2023. Property developers can use Brickflow on a no lender names basis, but can't apply for a loan without a Broker. Therefore, we want to connect them with Brokers in their local area that understand the commercial property space. Brickflow will charge a fee for providing the lead (most likely a fixed fee).

This will take time to get right and we will reach out to existing Brickflow members to get their thoughts and feedback on the project as it develops.
Can Brickflow access my client data?
Brickflow will not sell your clients data to third parties. It is a platform designed to help Brokers source & apply for loans, as well as manage their client's cases.

If you have a technical problem with the system and you need us to investigate, our tech team will need your permission to access the case. This is the only time in which anyone from Brickflow will access your cases.

In terms of security, Brickfow is hosted by Amazon Web Services. According to statista.com AWS is the biggest cloud infrastructure provider globally. Their clients include Netflix, LinkedIn, Facebook, BBC and The CIA.
How does the white-label service work?
When a Broker company becomes a Brickflow member they will be asked to add their company logo. The logo will then be displayed every time you or one of your clients login to Brickflow.
How can I promote the fact I use Brickflow to my clients?
Similar to providing leads, Brickflow is working on marketing materials that can be white-labelled and used by brokers to promote 'their new software'.

This will be a collection of emails, videos and educational guides that can be shared with your clients.

We're currently working on a How it Works video (again white-label) that you can embed in your website.
Do I register as a company or an individual?
We don't mind. We're happy to pay either. Just choose which when you register.
FINANCE BROKERS
Register Now
Sign up to Brickflow for just £35 per month & earn 100% of the commission on every deal.
REGISTER NOW
BORROWERS
Compare Loans
Search loans from 80+ lenders, model deals & secure the best value development and bridging finance.
COMPARE LOANS
PROPERTY PROFESSIONALS
Partner With Us
Register now to help your clients secure development finance faster & reap the rewards.
REGISTER NOW
SIGN UP TO RECEIVE NEWS FROM BRICKFLOW