Compare loans from 40+ lenders & model property development deals in minutes
Run your numbers through Brickflow to check if your next development project is financially viable
How it works
The quickest & easiest way to search the development finance market
Compare loans from over 40 property development lenders
See how much you could borrow against a specific project & at what rate
Check detailed eligibility criteria for each loan to avoid wasting time & money
Check if a deal is financially viable, so you can make smarter investment decisions
Developer story
Join thousands of developers already saving time & money with Brickflow
Mandeep Poonian, Property Developer
"At any one time I might have 10 sites on my desk. I run all the ones I like through Brickflow, and I've found I can cut 10 sites down to one or two as most don't work for me financially. I then only run further due diligence on those two sites.

Prior to using Brickflow, I'd often spend days and weeks getting excited about a site only to realise at the end I couldn't make it work.

By running each project through Brickflow first, I save myself and my team between 30-40 hours per month, from researching sites that don't work."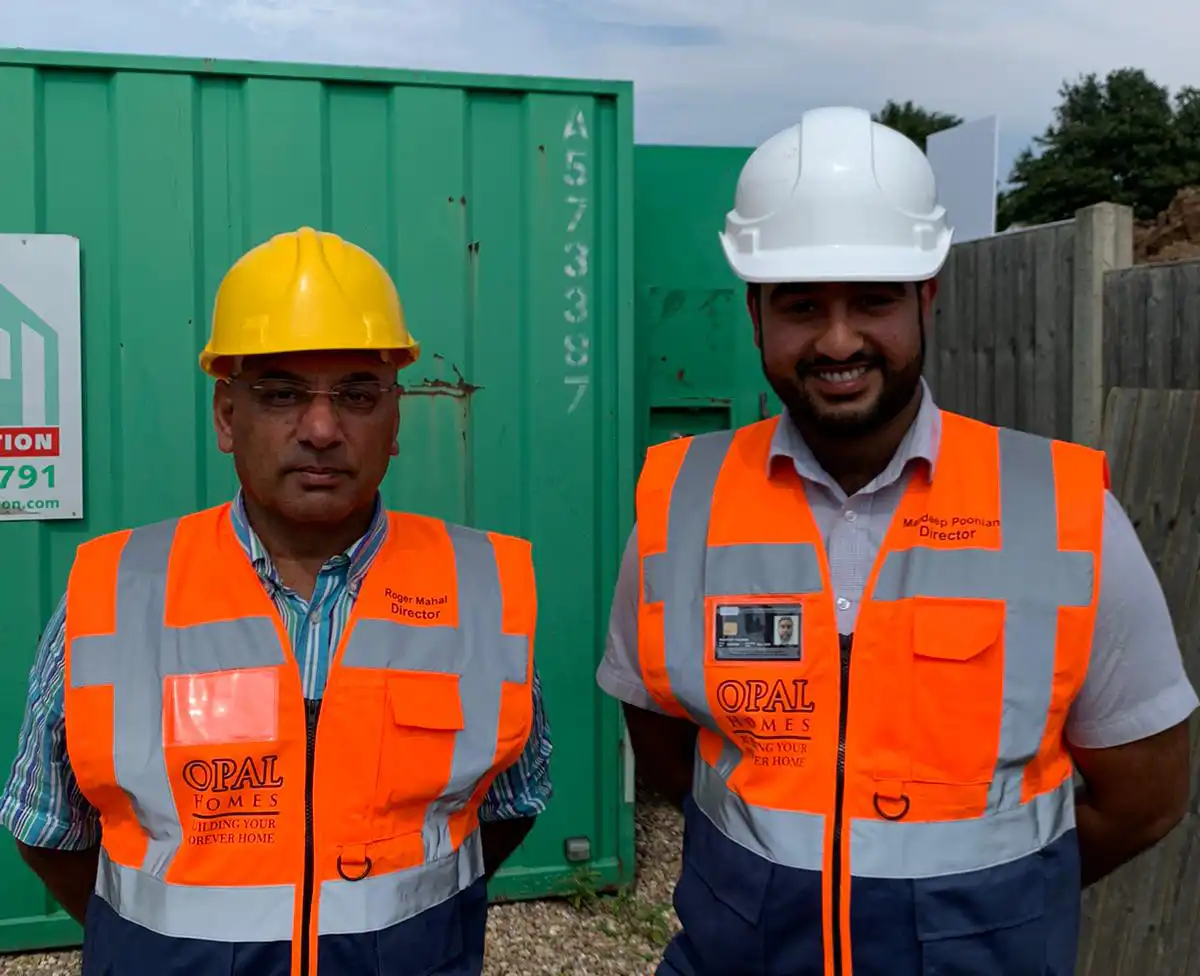 Why model your deals on Brickflow?
Save time, money & scale your business sooner
Why model your deals on Brickflow?
Save time
Search 40+ lenders in minutes, saving you weeks of wasted phone calls and unanswered emails.
If you've found a potential site, run the numbers through Brickflow to check if the project is financially viable. Discard schemes that aren't before you waste time and money pursuing them, and focus your resources on those that will prove the most profitable.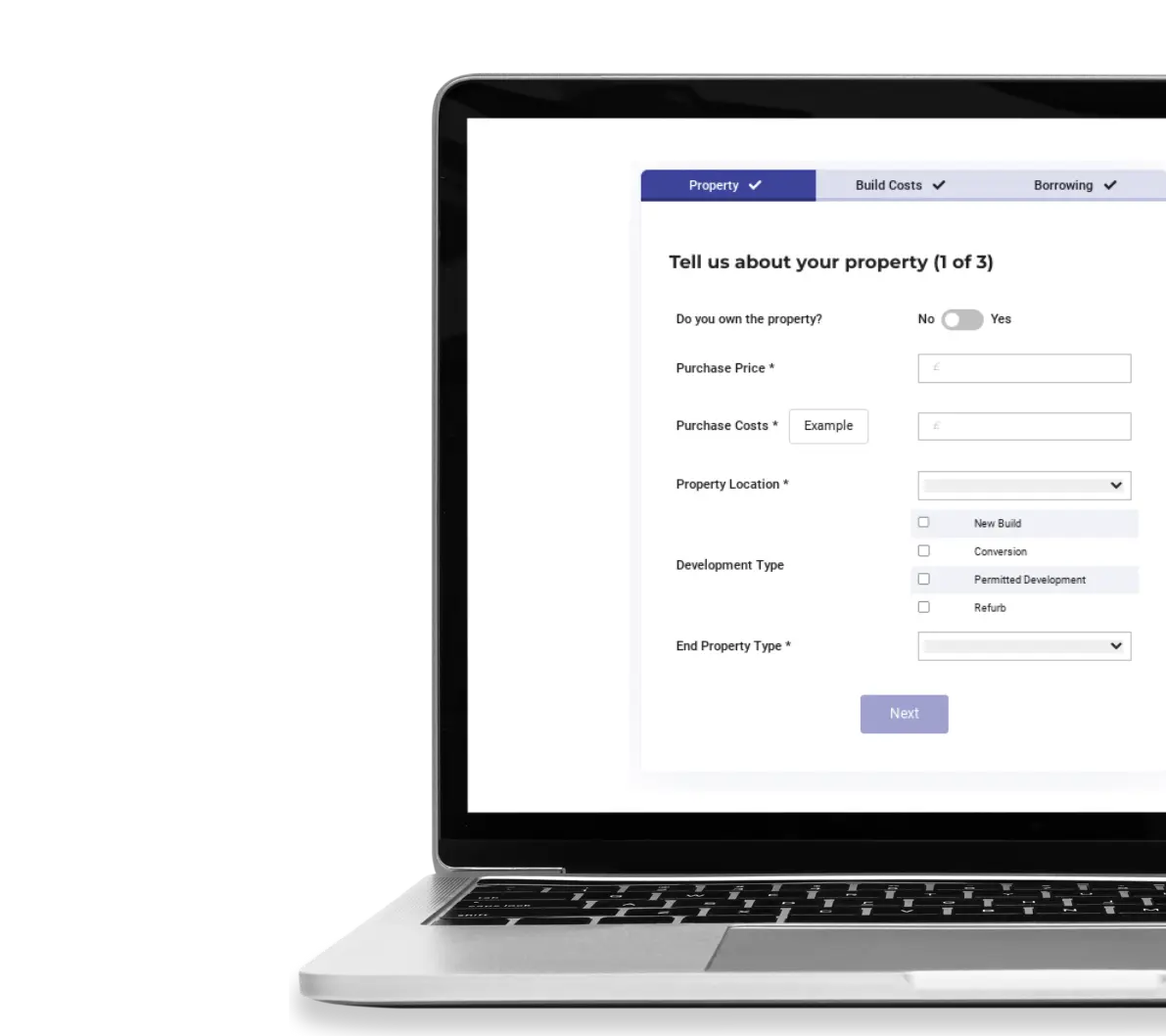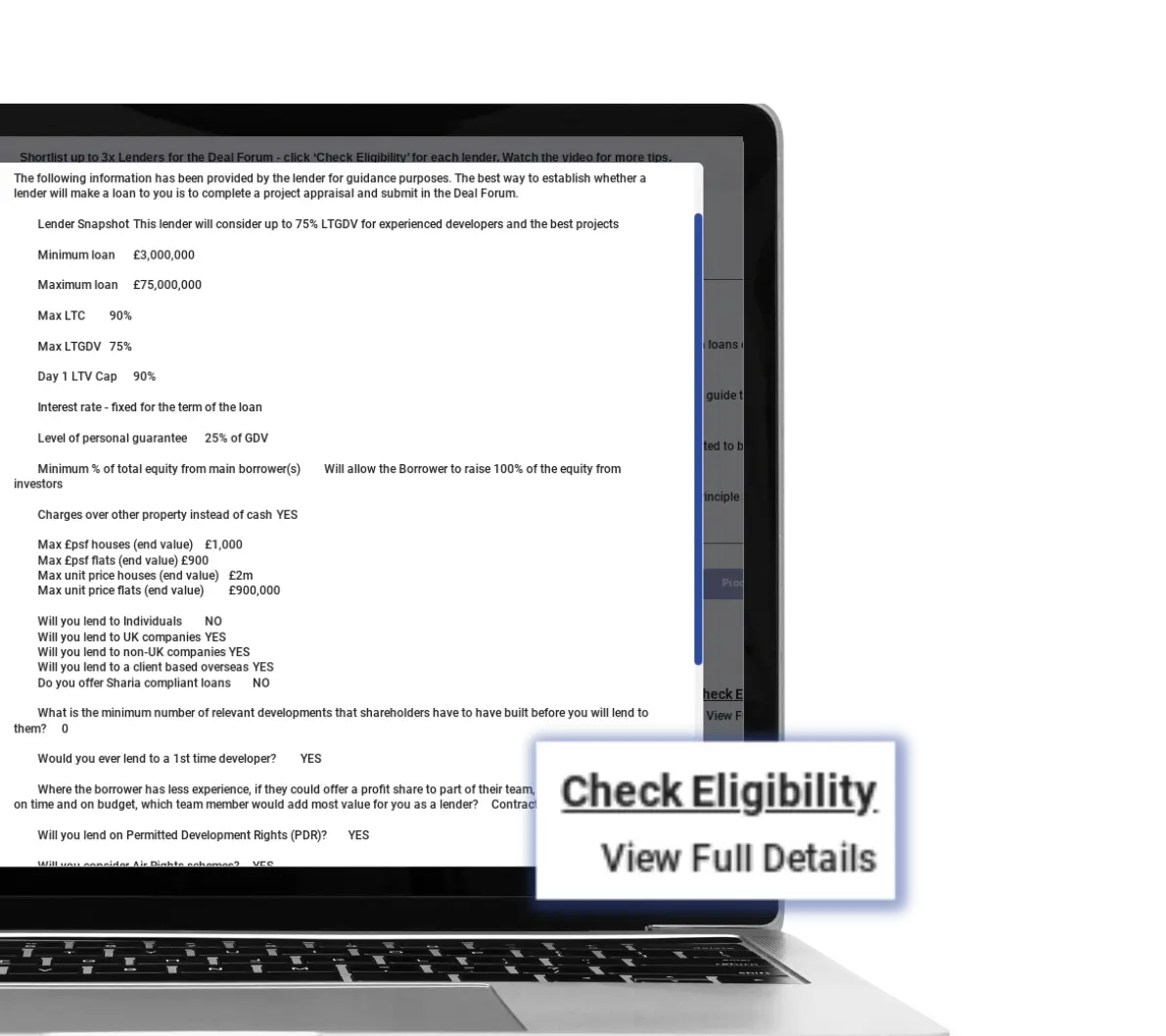 Why model your deals on Brickflow?
Save money
The difference between finding funding and finding the right funding is normally tens or even hundreds of thousands of pounds. Brickflow searches the breadth of the market so you don't have to, ensuring you find the right lender and the best value loan based on your specific project. Increase profit on every deal by finding the cheapest loan options and decreasing your borrowing costs, whilst reducing your deposits and maximising your return on equity.
Why model your deals on Brickflow?
Scale sooner
Deposits vary from 10% to 35% of total costs, so the difference in equity required between lenders could be a potentially deal-breaking variance. Brickflow searches the whole market to ensure you're making your equity stretch as far as possible. This frees you up to invest in new or additional schemes, scaling your business far quicker than competitors who tie up too much equity in each project.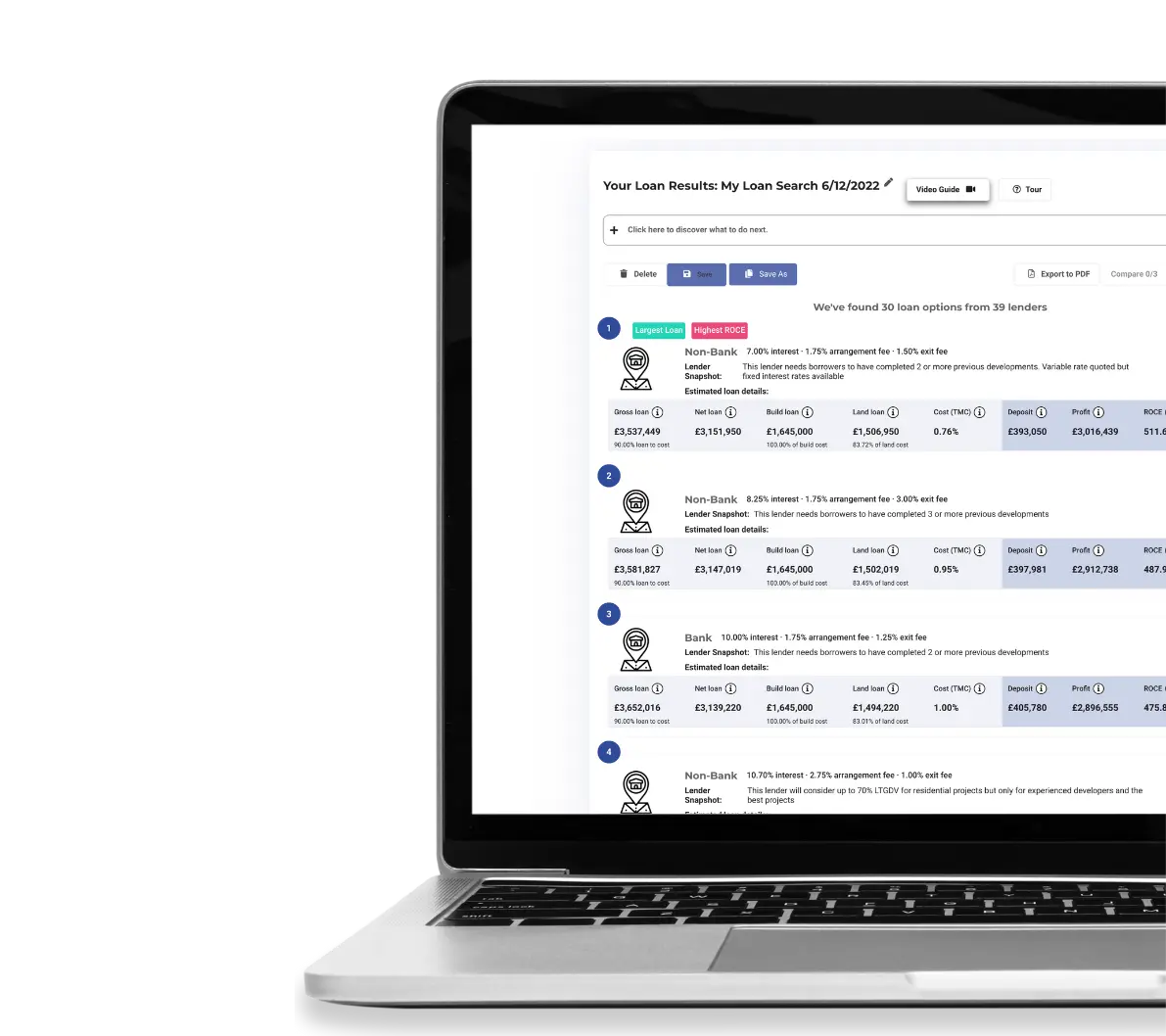 Is your broker using Brickflow?
Tell them about us to secure the best value development loans
How to apply for a loan
We make development finance more accessible for everyone
We're on a mission to democratise the development finance market, making it more accessible for brokers, borrowers, lenders and everyone in between.

Currently, our application tool is only available to brokers to ensure they're able to secure the best value development finance for their clients. If you're a developer looking to apply for a property development loan, there are 3 ways you can apply.

Book a call with Brickflow
If you'd like to proceed with a loan that appears in your search results, book a call with a member of the Brickflow team & we'll talk you through the next steps, or email info@brickflow.com.
Developer Testimonials
Hear what developers have to say about Brickflow

MRS K SAYERS, AFB PROPERTY
Personal service behind the automation. Brilliant!
The service I received was a great surprise- a person behind the automation! With knowledge and skill to feedback valuable insight on the deal presented!
Will definitely use this service again!
READ ON TRUSTPILOT

MR MCNAMARA, MCNAMARA ASSOCIATES
Brickflow have exceptional customer care
Brickflow have exceptional customer care as well as brilliant knowledge. We will be using their services for the foreseeable future.
READ ON TRUSTPILOT

WILL BURTON, BOTANY HOMES
Brickflow have been absolutely brilliant
Brickflow have been an absolutely brilliant company to deal with. They have been very helpful and always quick to get back to me. I would highly recommend them to anyone who is looking for development finance.
READ ON TRUSTPILOT
Understanding property development finance
How does property development finance work?
Property development finance is a short-term loan used to finance the construction, conversion or refurbishment of buildings. Once the project is complete, you repay the loan through the sale of the property or via refinance.
FAQs
Your Questions Answered
How does Brickflow work?
Brickflow is a digital marketplace for development finance, connecting brokers and borrowers with lenders online. Our algorithm compares your project requirements against more than 40 lenders. It is a high-level search against real criteria provided by some of the UK's most reputable development lenders.
How does Brickflow calculate Development Finance?
Development finance is the most complicated of all property loans to calculate. There are a lot of variables to consider, and these loans are underwritten more subjectively than a regular mortgage.

We use the same loan modelling process across all lenders, to allow easy comparison between lenders. Each lender will have their own model, which will constantly be tweaked, so the loan figures provided on the Brickflow results screen may differ to the final quotes provided by the lenders. However, we constantly monitor our estimates against the actual quotes received to ensure any differences are minimal.
The main criteria to how a development loan is calculated are:
Loan to Gross Development Value (LTGDV)
Loan to Cost (LTC)
Minimum client equity contribution
Day 1 land loan cap
The lender determines the loan amount from a combination of the above factors and delivers a final combined amount. Other factors that can affect leverage and pricing are; micro geography, asset type, lender loan book exposure, development experience, build type and more.



How many lenders do you search?
As of today, we have 40 lenders on Brickflow, with ambitious plans to grow this number. We handpicked our initial lenders to represent the entire market, covering a full range of pricing and leverage, as well as all UK geography and loan sizes.
Which lenders are on the platform?
We work with mainstream banks, challenger banks and specialist development lenders.
How do I apply for a loan via Brickflow?
The easiest way is to refer your broker to Brickflow. Brokers can apply on the platform on your behalf using our Smart Appraisal™ tool, and can invite you to collaborate on your development appraisal. Brickflow connects directly with over 40 lenders, so there's zero paperwork and zero delay. Lenders will respond with a Decision in Principle in hours (rather than weeks), and your broker can then apply for your preferred loan on your behalf.

Alternatively, you can speak to a member of Team Brickflow on 020 4525 6764 or email us at info@brickflow.com
What size loan can you source via Brickflow?
Loans start from as little as £150k and go up to £150m. Some lenders have a published maximum loan of £40m or £50m but will work on bigger loans as part of a syndicate. If you are looking to source a loan above £40m and find your options are limited, contact us and we can arrange a syndication deal for you .If you are ready to secure a loan, please call us on 020 4525 6764 or email us at info@brickflow.com
How do you rank the loans?
Loans are ranked in order, from largest to smallest. When the loan amounts are the same, the Brickflow software ranks them in price order, with the cheapest loan first.
How much does it cost to compare loans?
It is free for developers to compare loans, and receive search results from over 40 lenders. In order to see the lender names and apply for a loan, you can request that your broker registers to use Brickflow, which costs just £35 per month.
FINANCE BROKERS
Register Now
Sign up to Brickflow for just £35 per month & earn 100% of the commission on every deal.
REGISTER NOW
PROPERTY DEVELOPERS
Compare Loans
Search loans from 40+ lenders, model deals & secure the best value development finance.
COMPARE LOANS
PROPERTY PROFESSIONALS
Partner With Us
Register now to help your clients secure development finance faster & reap the rewards.
REGISTER NOW
SIGN UP TO RECEIVE NEWS FROM BRICKFLOW