Brickflow Enterprise

Go digital overnight with our embedded finance solution, generate qualified leads & scale your commercial property finance business sooner
Introducing Brickflow Enterprise
Turbocharge your business
With or without a dedicated marketing team, brokers struggle to turn online traffic into meaningful leads.
Add our embedded finance solution to your marketing channels (or a partner's) to offer your clients the quickest and easiest way to compare lenders, and capture borrower contact details from every single search.

Created specifically for commercial property finance brokers, our incredible tech leads straight back to you.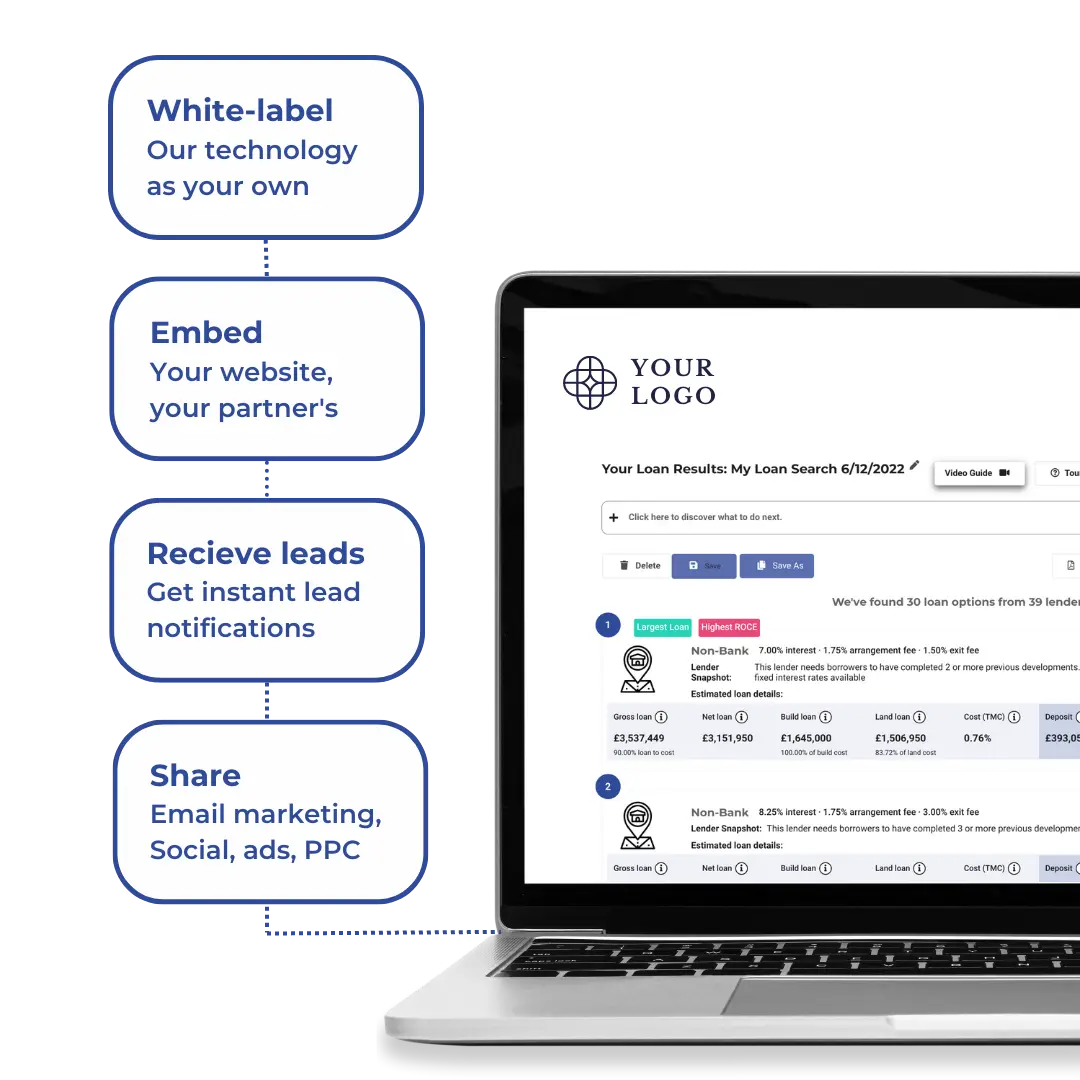 Bridging loans & development finance now live for Brickflow Enterprise customers
How it works
Receive qualified leads with every search
Where to add Brickflow Enterprise
Plug a white-labelled version of Brickflow into any website
Go digital overnight and expand your reach by embedding the Brickflow platform into your website or a partner's.

Partner sites could include:
- Estate agent websites
- Auction websites
- Introducer websites

In other words, wherever you find developers, they'll find you.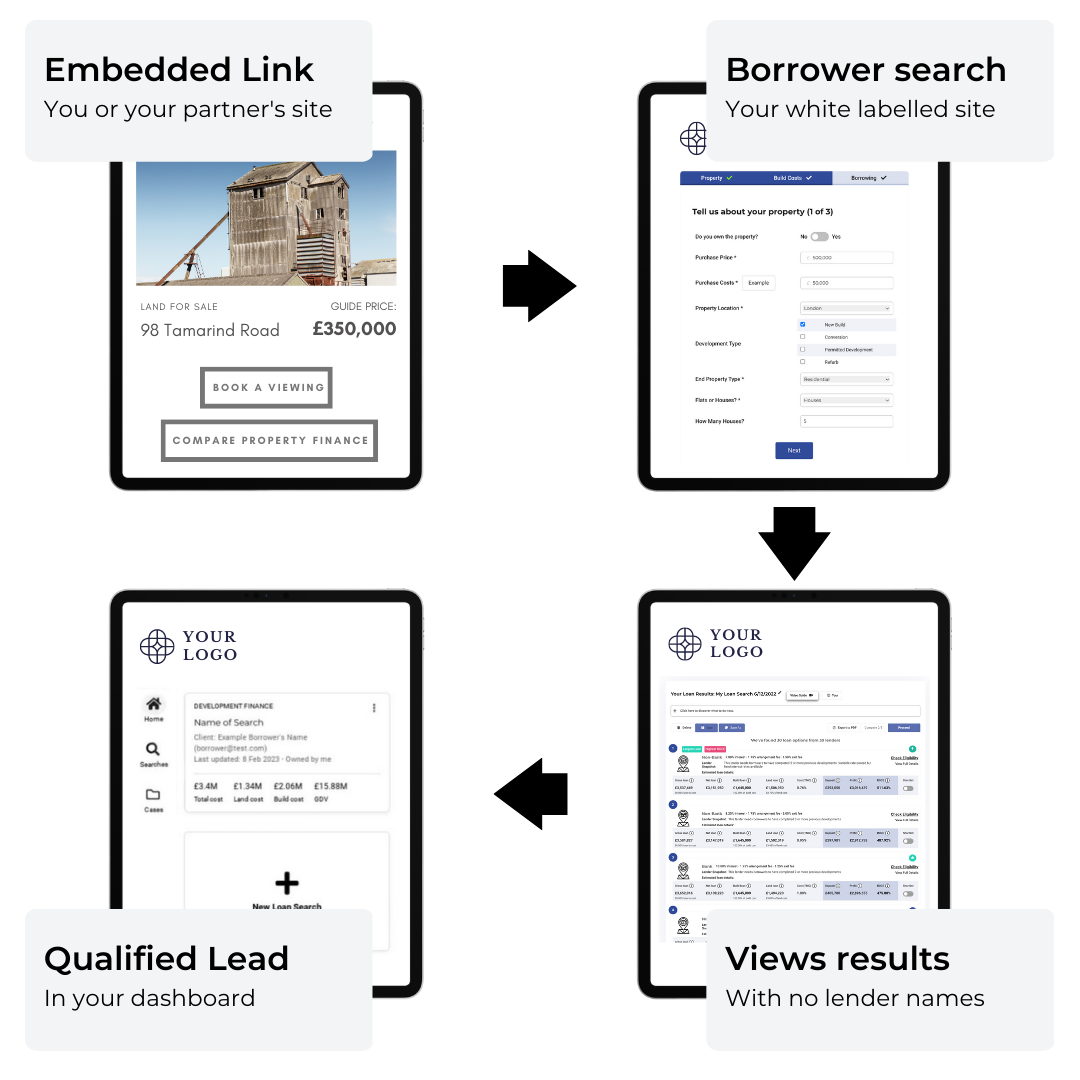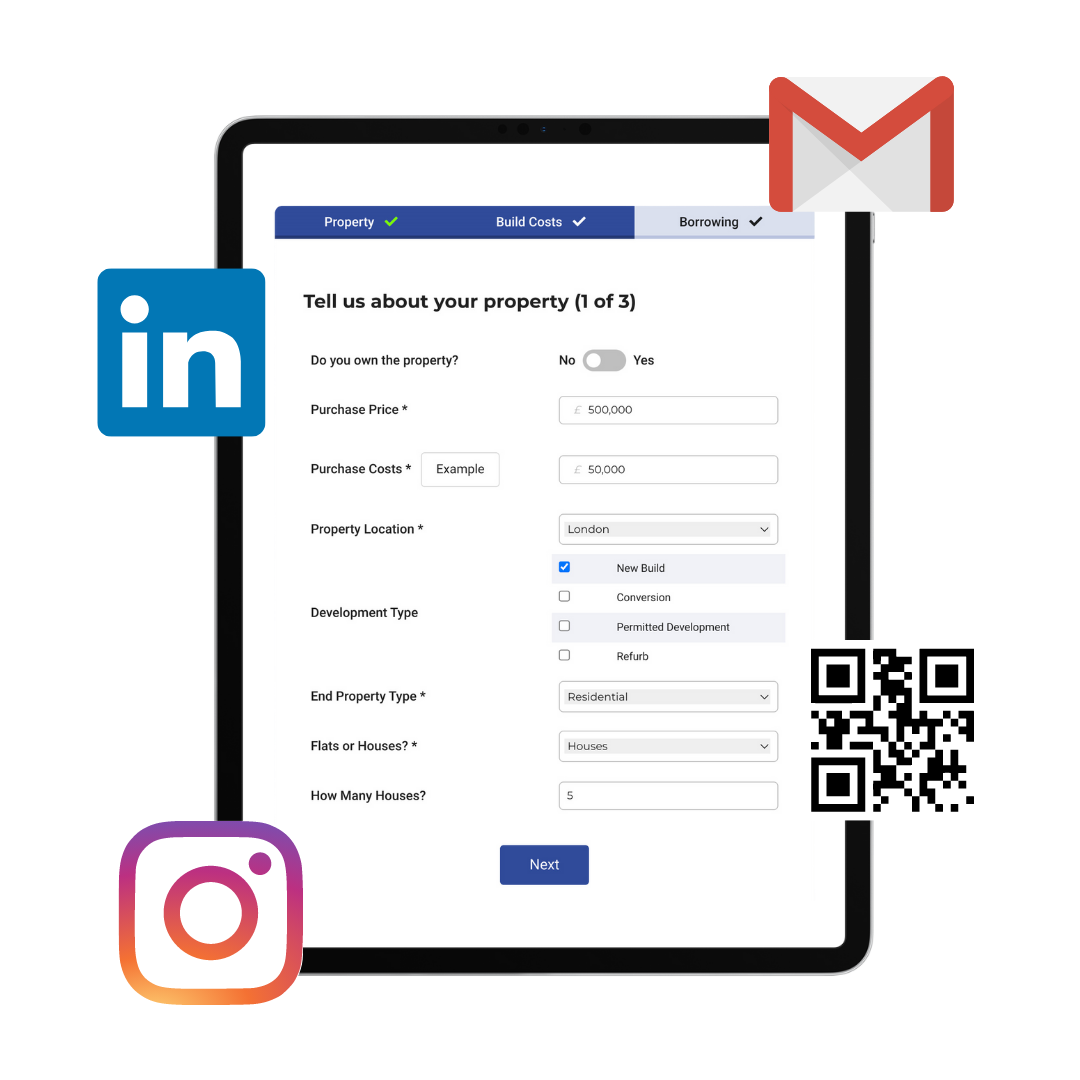 Where to add Brickflow Enterprise
Add to any marketing channel you choose
As well as adding Brickflow Enterprise to any website, you can add a link to any marketing channel you choose, widening your pool of potential clients.
Include on your social media and marketing emails or add a QR code to presentations or brochures.
Case studies
How industry leaders use Brickflow
Case studies
Fox Davidson
Wesley & the team have Brickflow Enterprise embedded in their website & partner channels. New & existing borrowers can compare loans, model sites & ultimately get more deals done.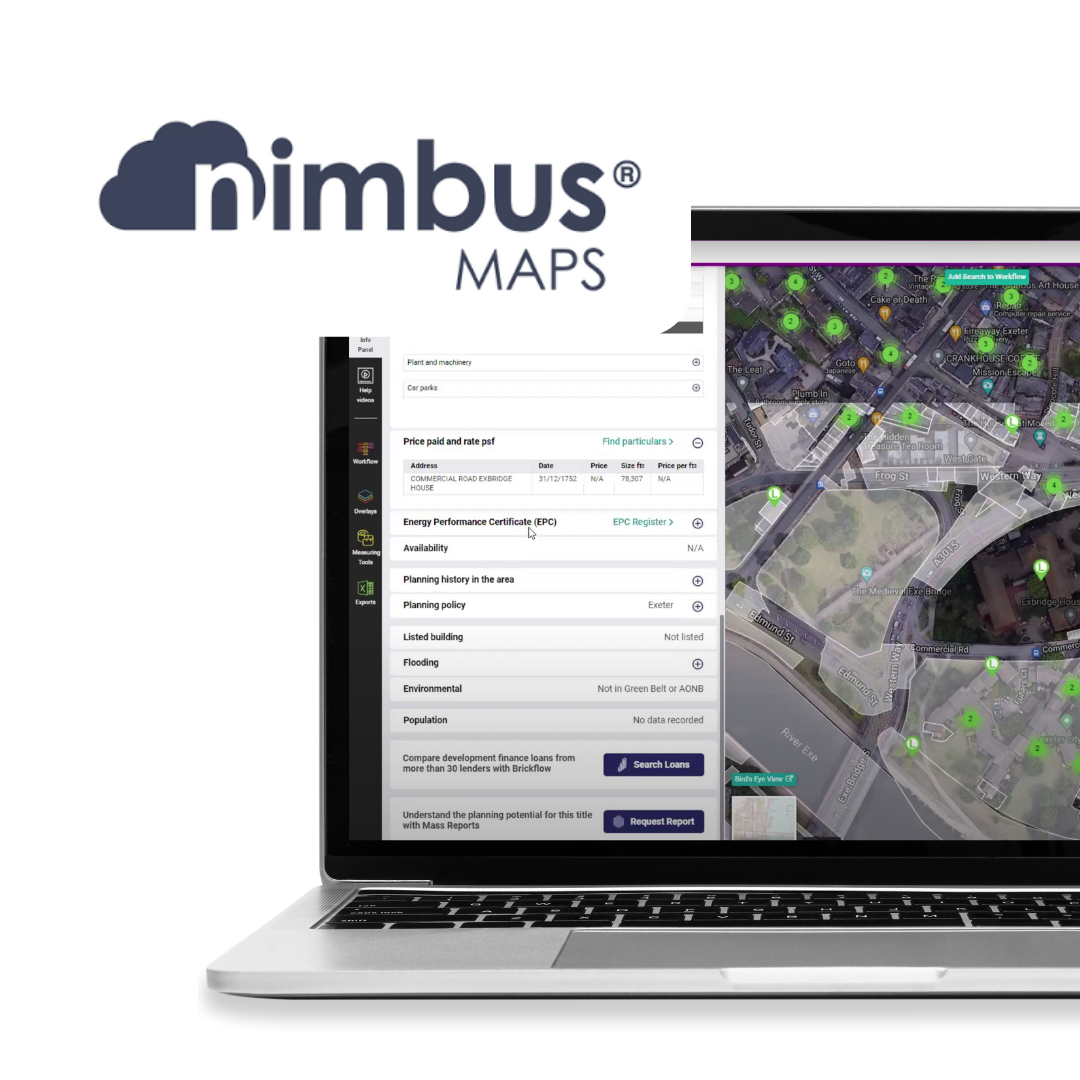 Case studies
Nimbus Maps
Nimbus Maps embed Brickflow into their website to allow developers to model their deals
Nimbus Maps use Brickflow to add extra value to their users, allowing developers to model their deals whilst they search and appraise potential projects.
Case studies
OnTheMarket
Agents using OnTheMarket use Brickflow to control their pipeline & earn additional revenue
Estate agents using OnTheMarket can access Brickflow through their dedicated portal. This allows agents to help their clients find the right commercial property finance, so more deals complete, whilst adding to their revenue stream.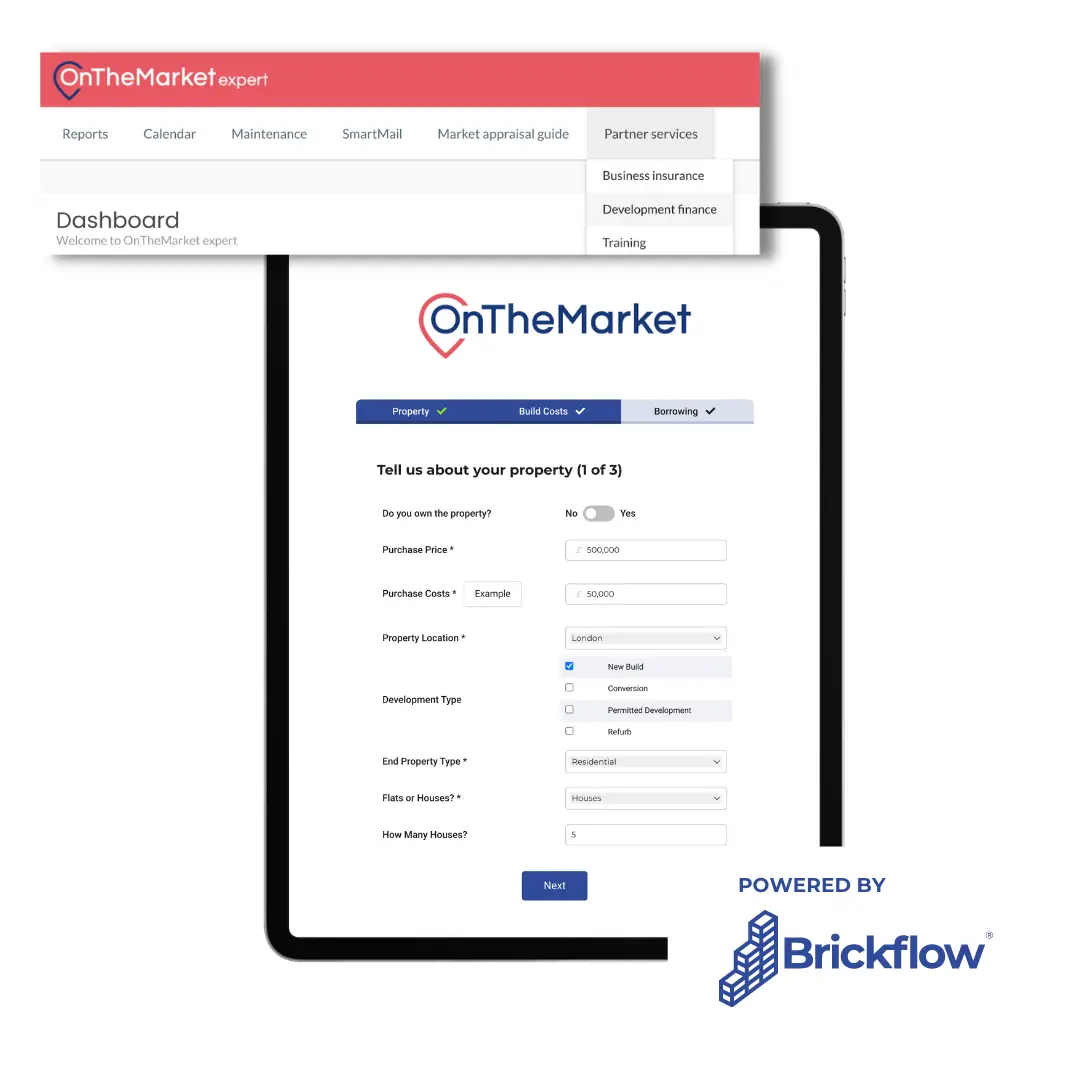 Case studies
How Property Finance Group generated 65 new enquiries last quarter using Brickflow Enterprise
Property Finance Group uses Brickflow on their website to convert traffic into leads
They use Brickflow to convert their website traffic, help developers model their deals, and reduce everyone's admin.
In Q1 2023, the plugin helped them generate 65 new enquiries and 74 searches.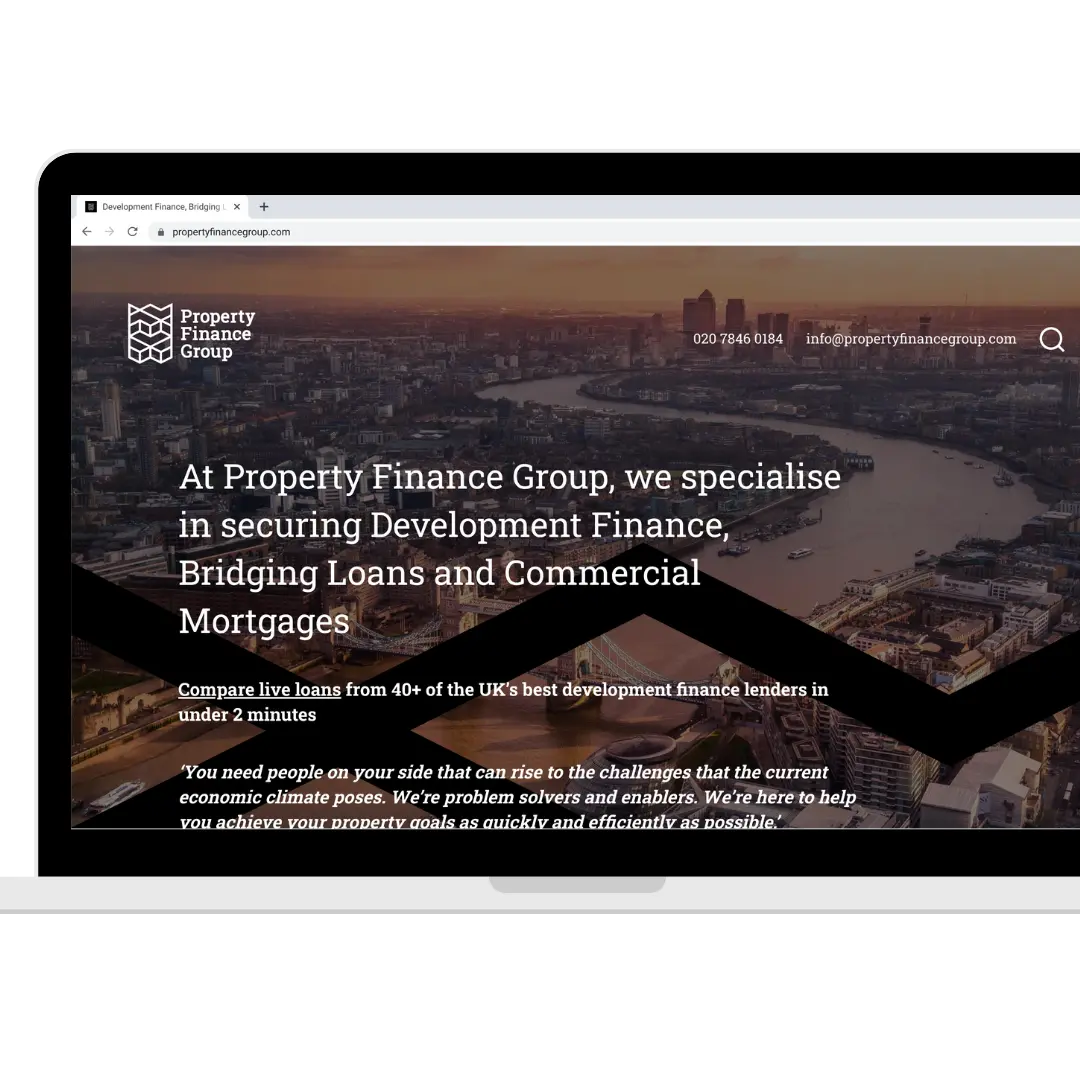 Book a demo
Book a demo to learn more about Brickflow Enterprise
During the demo, Frazer Campbell, our Head of Partnerships will show you:

- How it works in more detail
- How to use it to generate more leads by getting partners to use it, and how to incorporate it in your marketing and sales strategy
- How brokers, agents, and other industry experts are using Brickflow
Click on the calendar to book your demo & scale your business.
FAQs
Your Questions Answered
What is Brickflow Enterprise?
Brickflow Enterprise is an embedded finance tool, created for commercial property finance brokers. As a broker, you can add a white labelled version of Brickflow to your website, a partner's website (e.g. estate agent, auction house, introducer etc.) or any of your marketing channels and Enterprise means you receive borrower contact details straight to your dashboard, every time they complete a search.
Who can use Brickflow Enterprise?
Brickflow Enterprise was created specifically for brokers in the commercial property finance market.
How do I add Brickflow Enterprise to my website or other marketing channel?
You'll get a personalised link that you can add to your website, any partners website, social media, emails, email footers, into a QR code, slides and more
Can Brickflow access my client data?
Brickflow will not sell your clients data to third parties. It is a platform designed to help Brokers source & apply for loans, manage their client's cases and generate leads.
If you have a technical problem with the system and you need us to investigate, our tech team will need your permission to access the case. This is the only time in which anyone from Brickflow will access your cases.
In terms of security, Brickfow is hosted by Amazon Web Services. According to statista.com AWS is the biggest cloud infrastructure provider globally. Their clients include Netflix, LinkedIn, Facebook, BBC and The CIA.
FINANCE BROKERS
Register Now
Sign up to Brickflow for just £35 per month & earn 100% of the commission on every deal.
REGISTER NOW
PROPERTY DEVELOPERS
Compare Loans
Search loans from 80+ lenders, model deals & secure the best value development and bridging finance.
COMPARE LOANS
PROPERTY PROFESSIONALS
Partner With Us
Register now to help your clients secure development finance faster & reap the rewards.
REGISTER NOW
SIGN UP TO RECEIVE NEWS FROM BRICKFLOW