Brickflow's CEO and founder, Ian Humphreys, had the great pleasure of being invited to speak as a guest lecturer at the prestigious Bayes Business School to students studying the Masters in Real Estate.
---
Brickflow's CEO talks to Bayes Business School
As part of their financial modelling module, Ian spoke to over sixty students, from diverse backgrounds and counties, on their way to achieving a Masters in Real Estate from Bayes Business School (formerly Cass).

Bayes consistently ranks as one of the UK's leading business schools and is pretty much the unofficial authority on UK real estate finance. Achieving the MSc is no mean feat and being invited along to deliver a lecture is certainly no small accolade either, and an incredible opportunity to explain how understanding finance is the foundation (excuse the pun) for future success.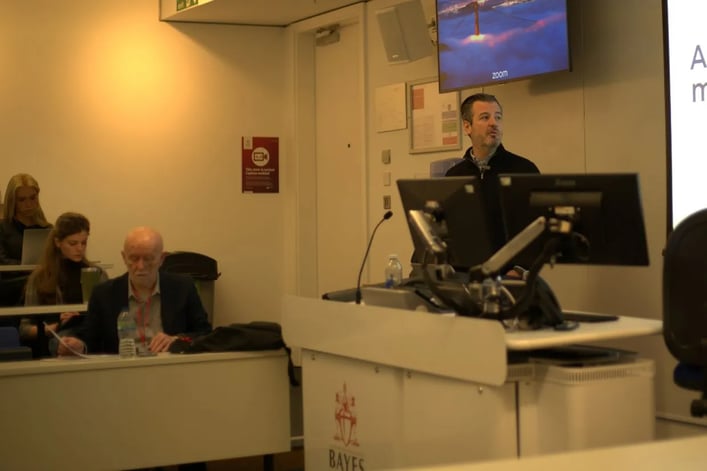 Why Bayes Business School invited Ian
William H Rodney, Dip LA, MSc, FRICS, senior lecturer at the Faculty of Finance had been tuning into Ian's LinkedIn posts, webinars and web resources and his interest was piqued. He has been finding Ian's material 'interesting and insightful' and could see that his students would also benefit from Ian's industry expertise in all things development finance.
What do the MSc Real Estate students study?

The Masters in Real Estate Finance equips students with core skills such as embracing valuation, financial modelling, development appraisal, market analysis & cash flow modelling.

What Ian discusses/some snippets from the lecture
Ian presented the ins and outs of how development finance works, what's needed (and why) in the application process, lender niches and how first-time developers can get funding. But the key focus was ensuring the students got to grips with the benefits of properly understanding development finance, and how doing so allows business to be scaled sooner.

Most people who engage with the Brickflow platform will know that Ian is pretty passionate about how negatively developers and their business can be affected if they get their funding wrong. So naturally, that's the narrative that Ian was compelled to impart onto soon-to-be property financiers.
By running some arbitrary numbers for site XOX with a few different lenders, all offering the same headline product; e.g. 65% LTGDV, students could visually grasp the vast differences in lending options. When all of the other variables lenders don't advertise are factored in, such as Loan to Cost (LTC), day one land cap or minimum developer equity input, the difference to what size loan is available and the effect on the borrower's economics is immense.

Equity inputs can double or triple on development schemes even though each lender is offering the 'same product.' Of course, this has a huge knock-on effect with Return on Capital Employed (ROCE).

Ian then delved into the compounding effect of these losses over a development career. The numbers are ENORMOUS.
So the unequivocal takeaway message for the students was that understanding finance is much more valuable than being able to knock a few thousand off of your build costs or land price.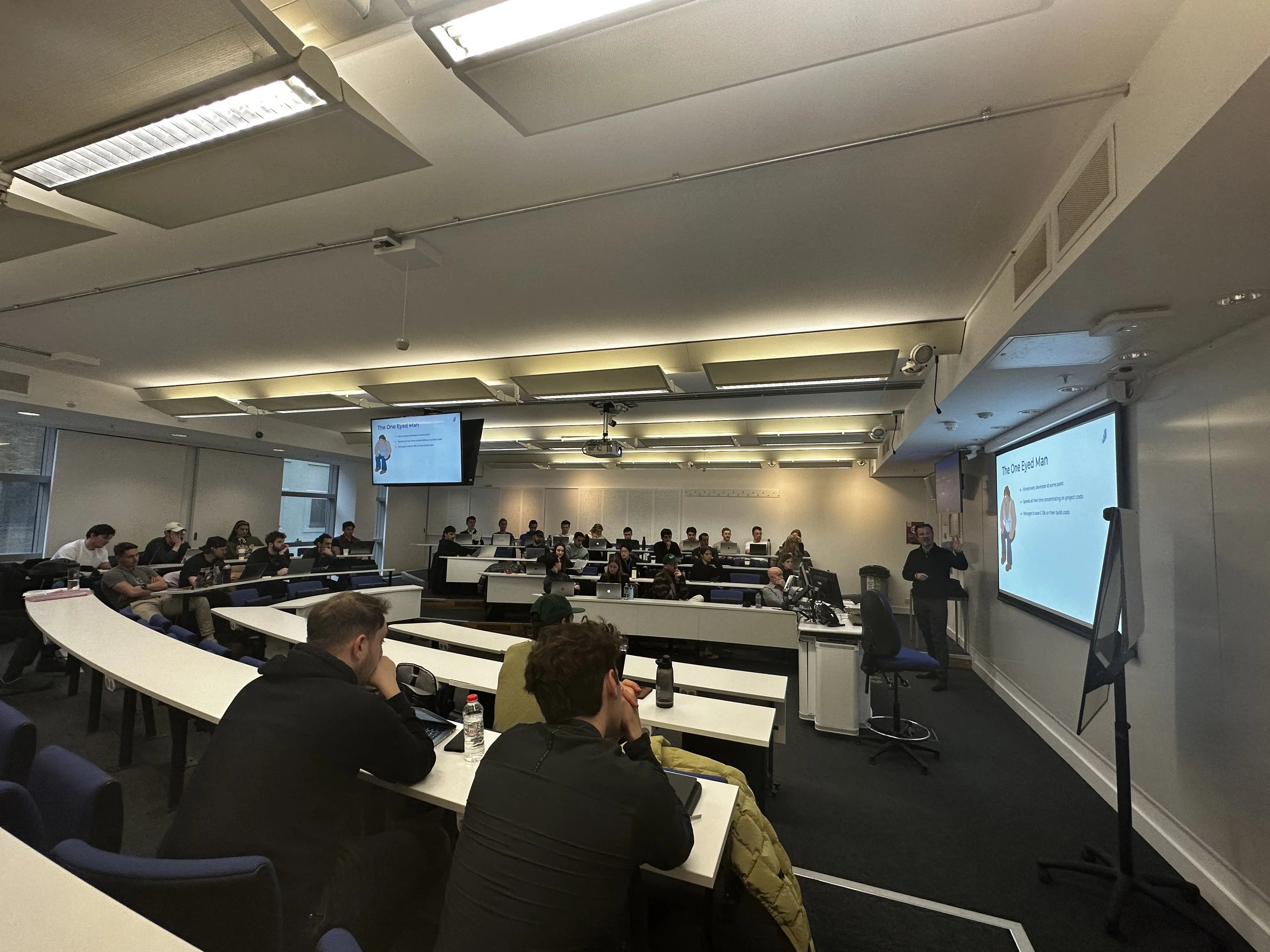 Brickflow's ethos
For Ian and the rest of the team at Brickflow, our mission is to re-educate borrowers, drive them away from headline interest rates or LTGDV percentages and demonstrate better borrowing.

We want to spread this numerical message far and wide, democratising the market and making it more accessible and transparent to everyone – where better to start than with the next generation to enter the market?
What the MSc students go on to do
According to William, students are most often drawn towards the mainstream internationalist consultants initially, like CBRE or JLL.

They will typically move onto more specialist areas, with the degree carrying an exemption from the Royal Institute of Chartered Surveyors (RICS) and APC training gives students exposure to various aspects of the market, including Commercial, Residential, Planning & Development, Building Surveying and Quantity Surveying.

William generally dissuades students going straight into developer positions so they can 'get experience in the first instance in general practice and build up their contacts to become more rounded and market savvy for developers.'

This class will be heading out onto the labour market in August, and we have no doubt they will be engaging with the Brickflow platform after Ian's presentation. We'd like to wish them all good luck with the rest of their studies, and we hope to see you as a client of Brickflow one day soon!
For anyone else who is intrigued by Ian's knowledge and expertise, and would like more insight into the development finance market, register with Brickflow and we'll keep you in the loop.